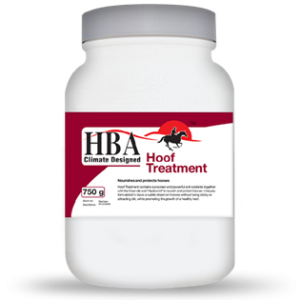 A blend of the finest oil and hoof protectants. Massaged into the coronary band it will also stimulate hoof growth.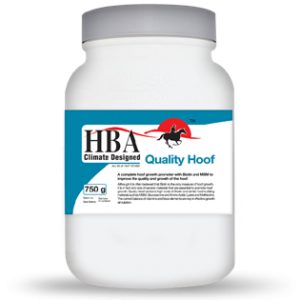 HBA Quality Hoof is a complete hoof growth promoter containing biotin, MSM and the right balance of vitamins and trace elements to stimulate growth and improve the quality of the hoof. For all horses.
Although it is often believed that Biotin is the only measure of hoof growth supplements, it is in fact only one of several essential materials that are essential to promote hoof growth. HBA Quality Hoof contains high levels of Biotin and similar hoof building materials such as MSM, Glucosamine and Amino Acids, Lysine and Methionine. The correct balance of vitamins and trace elements are key in effective growth stimulation. HBA Quality Hoof includes Vitamins C and B, Chelated Zinc, Copper, Chromium and Manganese. A pleasant tasting dry molasses powder is used as the excipient.
Guaranteed Analysis per 25 g
| | |
| --- | --- |
| Active | Guaranteed minimum analysis per 25g |
| Biotin 2% | 3 750mg |
| Pyridoxine HCl | 75mg |
| MSM | 2 500mg |
| Zinc | 50mg |
| Copper | 12mg |
| Amino Acid | 10 500mg |
| Manganese | 33mg |
| Methionine | 99mg |
| Lysine | 72mg |
| Probiotic | 7.5 x 10⁴ cfu/g |
Dosage: 25 g per day
This dosage may be increased to 3 times a day in severe cases